Several months ago, I ran across a TED talk by Andrew Jaspan, a former editor at The Age in Australia who talked about an experiment in journalism. In spending time at a university, he saw a parallel to news rooms: much like there are beat reporters in different topics, university departments have experts in their areas of research. What if the academics wrote articles themselves, rather than published in academic journals or provided quotes on news articles?
He put that idea into practice with The Conversation in Australia. Next came The Conversation UK and in the fall of 2014, The Conversation US. The editorial model is to have academics write articles for a general audience to provide insight and analysis of important issues. Articles are commissioned and edited by journalists.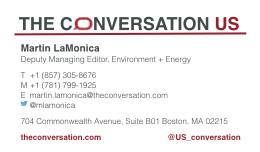 That's what I started doing this week. I'm the Deputy Managing Editor of The Conversation US and in charge of the Energy & Environment desk. All articles are published under a Creative Commons license and can be reprinted with attribution. It's independent and not-for-profit.
If you're academic and have done research on a subject you think deserves a wider audience, please get in touch with me at martin.lamonica@theconversation.com. If you're in a university media relations office, I'd also love to hear from you.
I had great fun and formed some wonderful relationships over the past two and a half years working as a contributor to MIT Technology Review, Xconomy and other publications. But I'm looking forward to helping make The Conversation US a success.